Where do we even begin, Sara + Dylan got married this past April at the Loft at Earls in Vancouver, B.C. and we were lucky enough to be their wedding photographers. Sara was actually the bridesmaid at a destination wedding we shot in Kelowna B.C., for one of our other amazing brides Randi. Sara wrote us an email that literally had me smiling from ear to ear, she wrote: "My boyfriend and I just got engaged and I immediately thought of you when I started to plan! (Aka the next day). You were so amazing at Randi's wedding! I was wondering if I could get price quotes from you/packages you offer etc!", like, fuck yes! We then went back and forth emailing each other as Sara tried to figure out the logistics of planning a wedding (never an easy task to do), and finally settled on the amazing loft at earls right in the heart of Yaletown, Vancouver. This wedding day was so outta this world amazing, with hands down SUCH a bombass wedding party, a short & sweet ceremony, speeches that had everyone crying, including myself (no surprise there), and our bride + groom absolutely RIPPED it up on the dance floor, okay, maybe not our groom, but our bride sure killed it! We cannot say enough good things about Sara + Dylan's wedding day, so here's a bajillion photos to help us relive their best day ever!
An indoor swimming pool, champagne & good friends
Sara got ready with her 7 bridesmaids and a few of her closest friends & family members at an airbnb that came with a flipping INDOOR SWIMMING POOL!!! She got all of her girls matching robes, we popped some bottles, danced around, and slowly but surely made our way to the limo to arrive at yaletown.
A twinkling light ceremony at the Loft at Earls
Sara's dad walked her down the aisle as her 13 person wedding party stood upfront waiting for her. Their ceremony was so beautiful, short and sweet and to the point, simply "I do". As we photographed this bistro light covered ceremony, I swear every single guest there (ourselves included) couldn't stop smiling.
Granville Island Wedding Party Photos
We decided to take the gang to Granville Island to do the majority of their wedding party photos. Granville island is such a gem in Vancouver for providing an array of backdrops for photos. Parking can be a little bananas, but luckily Morg & I were able to hitch a ride in Sara + Dylan's wedding limo. This wedding party, I cannot even begin to explain how much fun they were, how silly, how beautiful, how awesome they were and what good friends they all are to Sara + Dylan. The wedding party kept these twos' drinks flowing, had them dancing and serenaded and had SUCH an amazing energy the entire flipping day.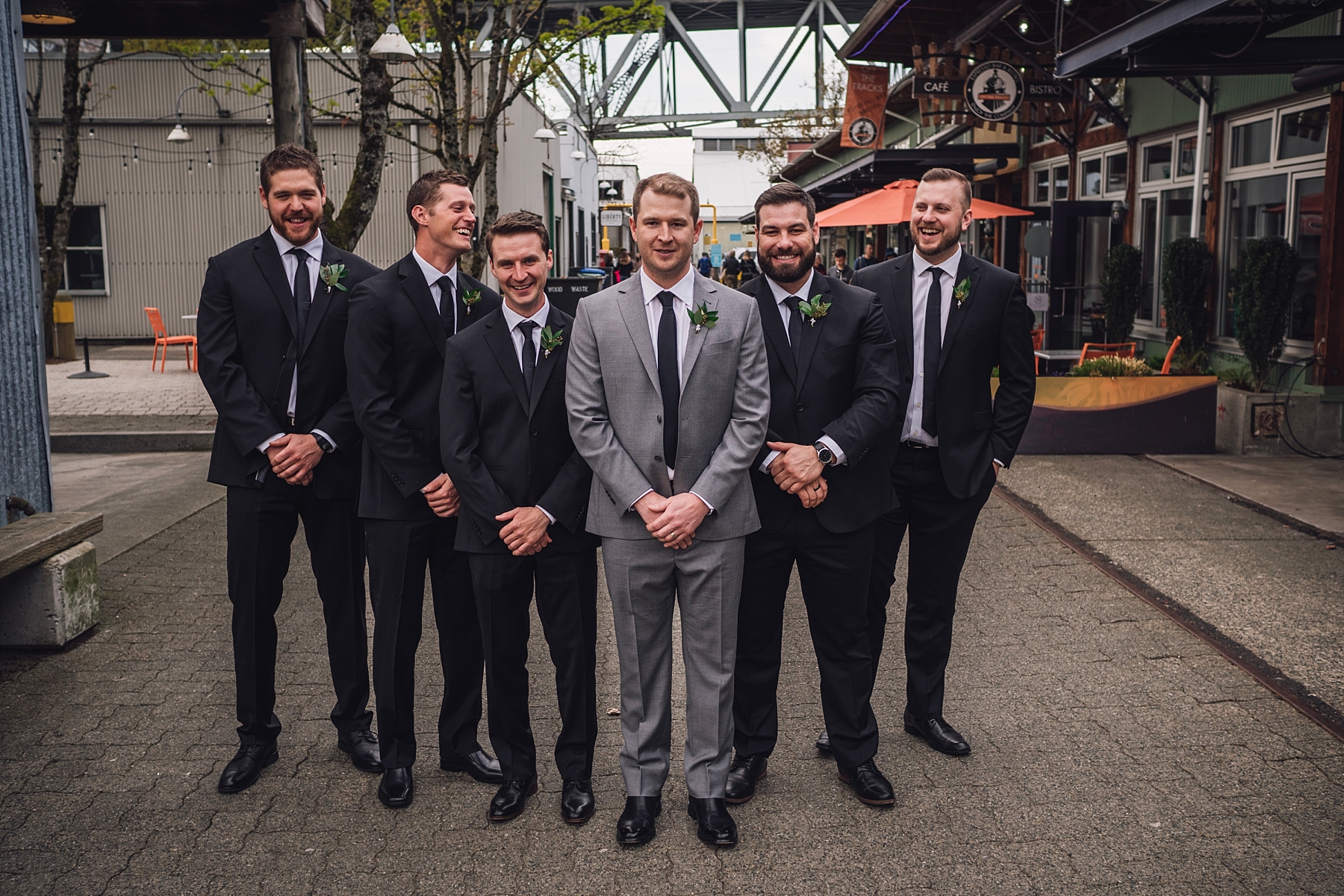 We took Sara + Dylan down this little dock in Yaletown for some portraits on their own right before their wedding party entrance back at the loft.
Speeches, tears, and donuts
I always love hearing speeches at wedding days. I love hearing about how somebody met our couple, what their relationship means to them, how important they are in their lives. I definitely choked up more than once during Sara + Dylan's speeches.
We love to take our couples out for golden hour shots at every single wedding, just for 10 minutes or so, unfortunately the sun decided to peace the fuck out for us soooo we took some bonus blue hour shots for about 5 minutes before our couple's first dance.
Dancing the night away
My favourite is when everyone, I mean like, EVERYONE gets onto the dance floor, at least for a couple of songs. It's always a good sign if the DJ is able to keep the crowd engaged and dancing for more than like, a second. We love getting right into the mix of things and capturing all the twerks and shakes that your mama gave ya! Sara + Dylan thank you thank you THANK YOU again for having us!